Aquanova Bathrobe London Dusty pink
Aquanova Bathrobe London for women and men in 100% Egyptian cotton Dusty pink
Watch this product and we will notify you once it is back in stock.
Aquanova Bathrobe London Dusty pink
Aquanova Bathrobe London for women and men in 100% Egyptian cotton Dusty pink
Aquanova Bathrobe London Dusty pink in Egyptian cotton for women and men

Aquanova Bathrobe London is wonderfully soft and comfortable to wrap yourself in after a bath at home or an outdoor bath. Or perhaps as a luxurious dressing gown to stroll around for half the day at home. The bathrobe is a unisex model that fits both men and women. Crafted from Egyptian cotton, it features deep side pockets, a lovely pretty shawl collar with a decorative satin trim. Stylish to combine with other bathroom textiles in the same series. Aquanova Towel London and Bathmat London are available in matching colours. The dressing gown has a nice 'Regular Fit' fit with a generous girth. Are you in doubt between two sizes? Then choose the largest size. You will want to spend hours in this lovely dressing gown!
Aquanova Bathrobe London sizes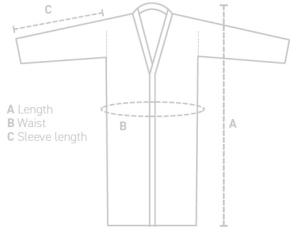 Dimensions: Small, Medium, Large, XLarge (select in the dropdown menue)
Material: 100% Egyptian cotton (combed), 420 gsm. Dobby woven
Colour: Dusty pink, colour code 87
Range: London
Washing instructions: Machine wash 60 degrees / dry low temperature
Brand: Aquanova