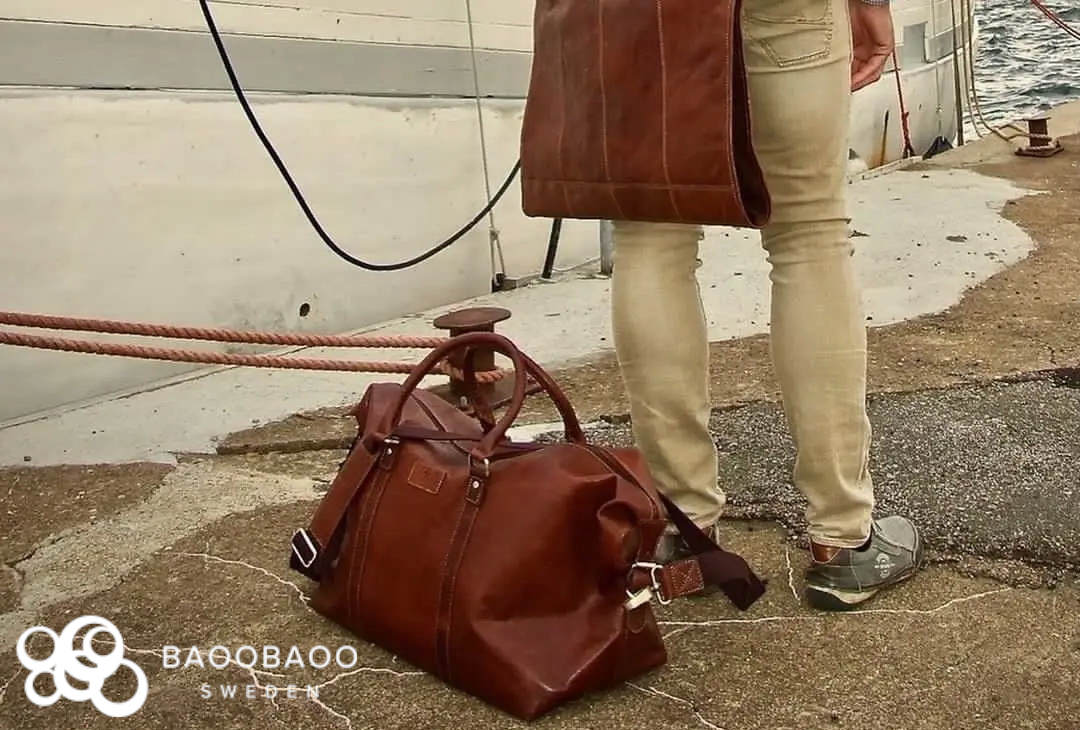 Eco-Friendly Baoobaoo Sweden Leather Bags - Scandinavian design.
Discover Baoobaoo Sweden's Sustainable Leather Bags – Quality and Design in Harmony
Craftsmanship Meets Sustainability in Every Baoobaoo Sweden Leather Product. Baoobaoo Sweden embodies leather bags and accessories crafted with meticulous attention to detail and a profound respect for the environment and social responsibility. The Swedish brand Baoobaoo Sweden was founded by Anders Nordangård in 2010, Baoobaoo Sweden has emerged as a Scandinavian design brand symbolizing both style and the charm of small-scale production.
Uniqueness in Every Stitch: Baoobaoo Sweden's Leather Creations
Anders Nordangård's 30 years of industry experience shines through in every Baoobaoo Sweden product. The brand celebrates authenticity and genuinely produced goods, reflected in the leather bags and products that only grow more beautiful with time. This timeless beauty is the result of small-scale, ethical manufacturing and a commitment to long-standing partnerships with skilled artisans.
Baoobaoo Sweden: An Exemplar of Ethical and Responsible Production
The production of Baoobaoo Sweden's leather goods is situated in India, where long-term partnerships and flexibility enable small batch manufacturing and rapid production times. Every leather used is a by-product from slaughterhouses, ensuring that no animals are harmed solely for their skin. Moreover, all metal parts are carefully selected and free from harmful chemicals, reflecting the brand's dedication to sustainability.
Baoobaoo Sweden and Amfori: A Force for Global Change
Through its membership in Amfori, a leading global organization for sustainable trade, Baoobaoo Sweden stands up for human rights and social responsibility in the supply chain. The factories producing Baoobaoo Sweden's products are regularly audited by independent third-party auditors according to BSCI, ensuring compliance with international standards.
Environmental Awareness in Every Fiber
Baoobaoo Sweden has a strong environmental awareness, where their products are designed to last and become more beautiful over the years. With production following EU's REACH regulations, Baoobaoo Sweden ensures their leather does not contain chromium VI or other toxic chemicals. The tanneries adhere strictly to waste management and their environmental certifications, including ISO 14001, promise a greener future.
A Labor of Love: From Tannery to Bag Factory
At the heart of Baoobaoo Sweden's leather production are the tanneries that create the distinctive Smokey leather characterizing their goods. The carefully controlled process from rawhide to finished product is a blend of traditional craftsmanship and modern design. Every detail, from dyeing to waxing, is performed with utmost care and in compliance with REACH regulations.
The Future in Focus with Baoobaoo Sweden
Baoobaoo Sweden represents a future where quality, sustainability, and responsibility go hand in hand. With their dedication to craftsmanship, ethics, and environmental consciousness, Baoobaoo Sweden stands out as a brand that not only delivers top-quality leather products but also bags and accessories that owners can be proud of – today and in the future.